If you work in enterprise and you're wondering what is the Internet of Things, you've come to the right place! In this article, you'll learn about:
What IoT is and how it all started
The barriers to implementing IoT
What benefits IoT can provide
Using IoT in Enterprise
Real-world examples of deployed solutions
Taking the first steps towards deploying IoT enabled solutions
The focus of this article is on the enterprise sector. However, many of the principles can also be applied to Industrial IoT. We hope this article helps you on the road to harnessing the benefits of IoT in your organisation. If you've got more questions or would like to discuss how Daizy can support your business objectives, please get in touch!
What is the Internet of Things?
The Wikipedia definition of IoT is:
The Internet of things (IoT) describes physical objects (or groups of such objects) that are embedded with sensors, processing ability, software, and other technologies, and that connect and exchange data with other devices and systems over the Internet or other communications networks.
To be more specific, IoT is best defined by market sector:
Consumer
The consumer marketplace is based on home automation where machines link to machines. If you're using Alexa to turn off your TV, close your curtains or change your heating settings then you're already using IoT. These are high touch applications with a user interface at the forefront of experience. They also tend to be high bandwidth applications, using home Wi-Fi for connectivity. Consequently, the cost of consumer IoT solutions is greater in comparison to other sectors.
Industrial
Industrial IoT solutions often target specific manufacturing processes, while also enabling digitisation of the supply chain. Forming part of Industry 4.0, this concept is now widely accepted and covers several enabling technologies. IoT solutions are categorised as high volume, vertically integrated, and can even be end-customer specific.
Enterprise
Enterprise IoT is defined as any organisation that has multiple processes which can be automated with the use of data collected from sensing devices. Indeed, enterprises tend to require multiple sensing devices, attached to multiple network standards, over a variety of locations and sites. This can create significant complexity in building a data asset, and maintaining the installed base of devices requires all components of the supply chain to work together. Thankfully, management of this end-to-end solution is greatly simplified through the use of a single interface. Without taking this approach enterprises will struggle to scale IoT solutions.
The emergence of enterprise IoT
25 or so years ago Siemens produced the M1 communication device. This allowed a machine to transmit data to an end-point over a wireless network. Tagged as 'Machine2Machine' (M2M) this technology used communication protocols such as SMS. Early real-world examples were vending machines communicating stock status and water loggers communicating metrics on pressure and flow rates. As a result of this new technology, M2M was providing useful data which companies could use to their advantage. However, early M2M applications experienced challenges in the cost of data transfer, power consumption of the device, and the cost of the device. That said, the potential for using sensing devices in enterprise was now clear.
M2M then spawned the vision of connecting all "things" to the internet or cloud, and this was tagged 'IoT'. Connected 'things' now allows a view into the environment we live in: homes, workplaces, the food we eat, and the transport and energy we use.
Building an enterprise IoT solution
With technology in place to deliver the benefits of IoT, the supply chain to support roll-out is rapidly emerging. These IoT solutions require a sensing device, a network connection to transport the data, and an application to consume the data and turn it into useful information. Additionally, there is a service wrapper including project management, installation, maintenance, and end of life reuse and recycle.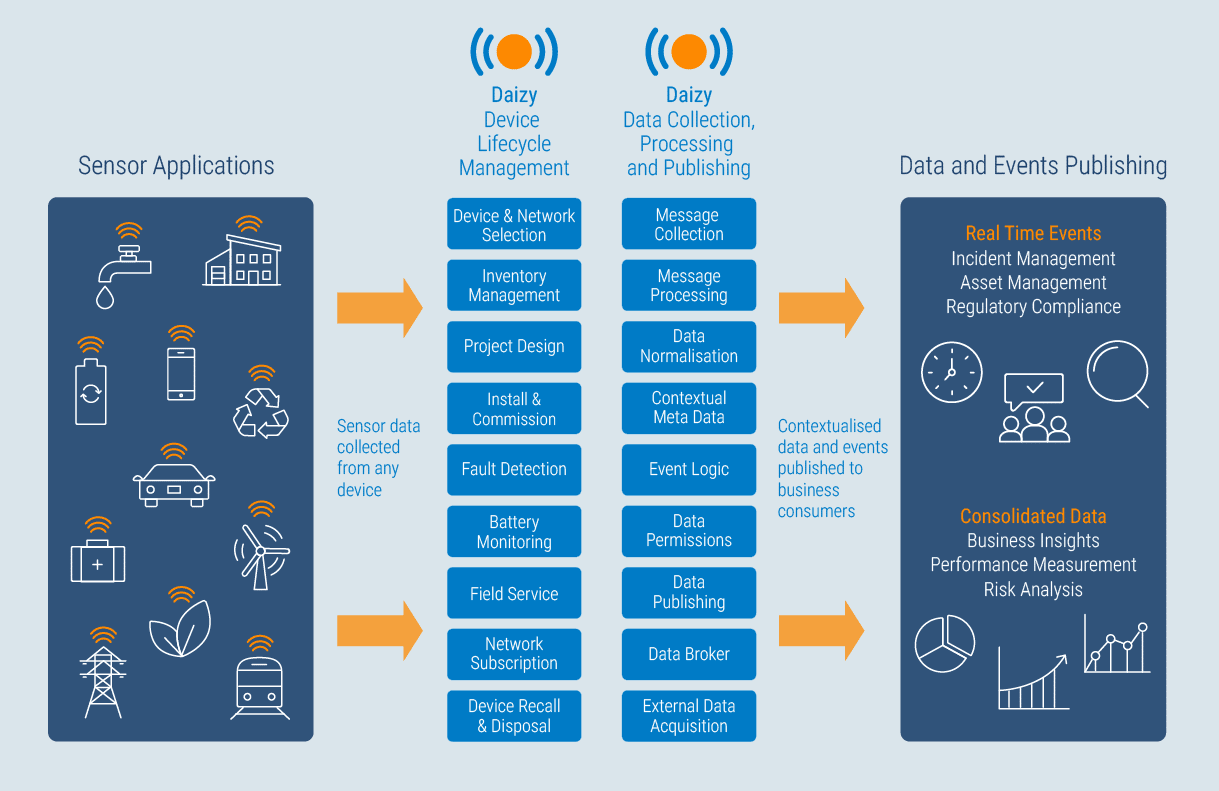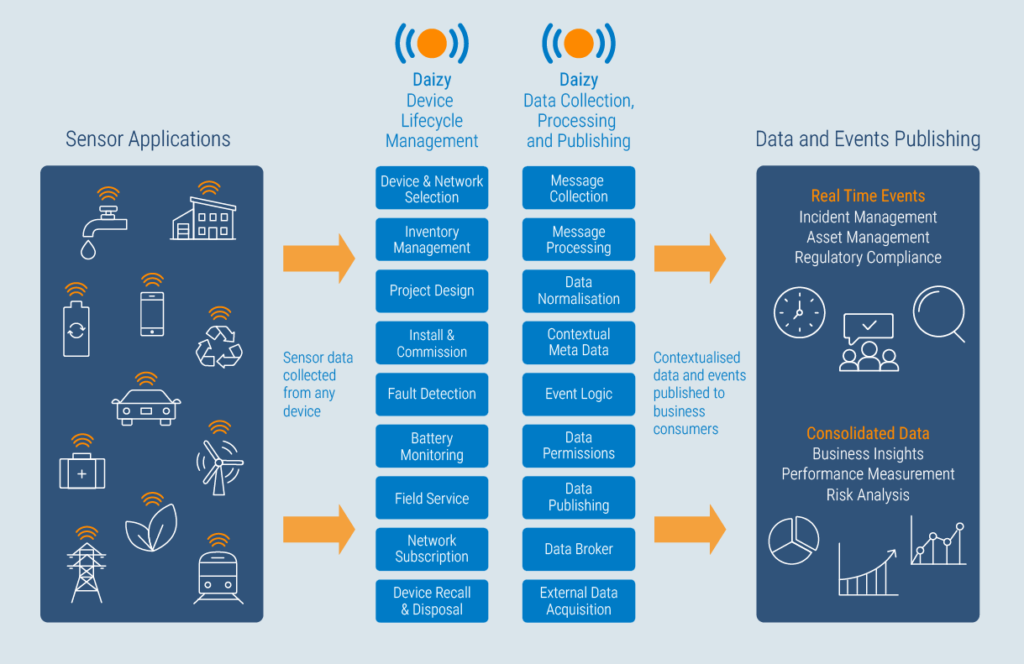 IoT connectivity
Low cost Low Powered data networks: Low Powered Wide Area Network (LPWAN) protocols in 5G, LTE-M, NB-IoT, Sigfox, LoRa specifically build to accommodate the volume of devices and the data they send. They also focus on limiting the power consumption of IoT devices. The frequency range of these wireless protocols provides wider geographical coverage, as well as improving inbuilding penetration. By employing radio spectrum that is essentially 'free to use', the cost of data transport is also greatly reduced.
IoT devices and power
A range of sensing devices produced for LPWAN protocols will likely be required. Importantly, these should be cost effective and and robust enough to last in the field for years at a time on a battery power. This avoids many of the limitations of being dependant on a connection to the energy grid for power.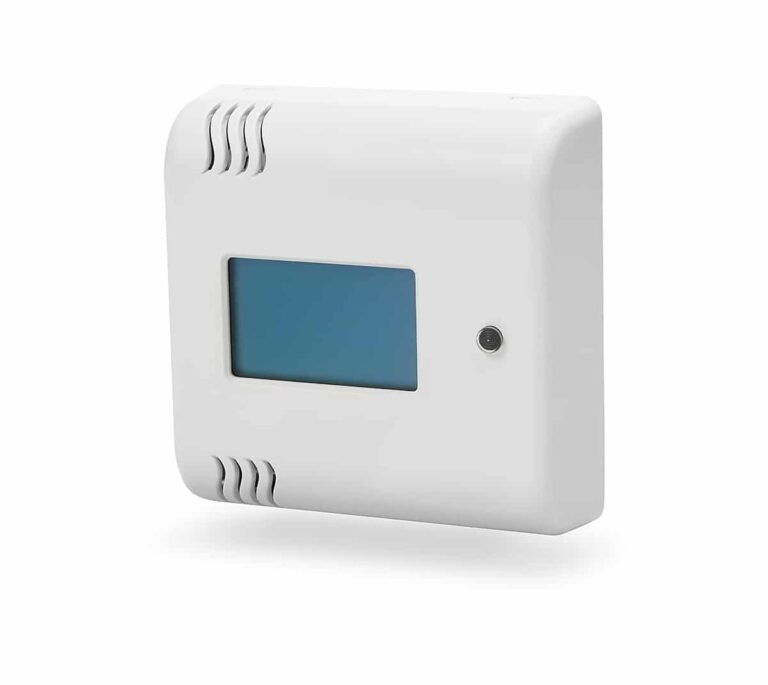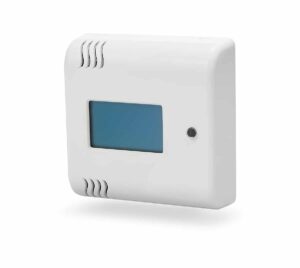 The Elvaco CMa10: a two-way M-Bus temperature/humidity sensor.
Cloud computing
Access to data storage and SaaS solutions allowing data to be stored and processed easily and cost effectively. This can drive greater insight and lead to analysis which releases business value.
Security
Security in collecting, transmitting and storing IoT data is critical. IoT devices can be vulnerable to fault injection attacks, where the device is physically attacked to introduce a fault into the system. To help address this emerging threat, the Internet of Things Security Foundation (IoTSF) was established in 2015, and now ensures ever more robust standards are continually introduced. Along with advances in LPWAN technology, these standards enable greater device management capability, including firmware enhancements to keep devices updated with the latest security patches.
Purchasing enterprise IoT solutions
IoT enabled solutions should be deployed on the basis that they will deliver benefits to the end client. This typically requires changes to internal processes, supplier contracts, organisational structure and internal systems. As a result of these needs, system integrators and solution providers serving businesses today are ready to provide their customers with IoT solutions. As a result, end customers no longer need to piece all the components of an IoT supply chain together, instead purchasing solutions which solve problems or create opportunities for their core business.
What benefits can IoT provide?
The focus for any IoT solution should be on the benefits it can provide to the enterprise. As a technical capability IoT in itself does not bring value. That value can only be unlocked through the delivery of a solution and the applications that are made possible by IoT technology.
IoT solutions tend to provide benefits which will into all or some of the the following categories:
Automation of business processes
Manual processes being carried out today, from emptying bins, counting cars, compliance for health and safety, maintenance of assets, monitoring of water, energy or pollution, are examples of processes which traditionally involve manual effort. Moreover, this monitoring effort is often inefficient, costly and unreliable. Automation of these monitoring processes can reduce cost, improve accuracy and increase the frequency of data collection.
Improved operational performance
Process automation can enable repurposing of service/maintenance teams and prioritisation of their activities based on real-time data. Consequently, these teams are more informed before arriving onsite. This ensures that the right tools, stock or materials are available to complete tasks in a single visit.
Improved client relationships
Fix times can be reduced and predictive or proactive actions can be planned. This results in fewer visits to customer premises (especially in the age of COVID-19) which highlights improved client experience as one of the key benefits of IoT enabled solutions.
Innovation of existing business models
The increased volume of accurate, standardised data leverages the benefits of IoT to unlock new business value. For example, using the data captured from energy submetering for billing purposes, to advise on energy reduction. This data could even provide digital signature on the health or well being of the occupant.
Combining multiple data sets together can increase the opportunity to innovate further. For example, using the data from bins, people movement, transport, weather and pollution to create a digital view of a city. This can then be used to provide dynamic traffic management, dynamic ticket pricing for public transport, a city navigation app encouraging and possibly incentivising people to commute in a more beneficial way.
Creating a digital twin of a business or a city enables a real-time 'holistic view' which can be used to identify relationships between previously disparate activities which had not been clear. Analysis of these newly discovered relationships can often results in step changes in performance.
Using IoT in your business
We have already explore the benefits of IoT as an enabling technology. It allows data collection on an automated basis at low cost and on a time configurable basis. This data can be used to better inform your day-to-day business practices, and ultimately can help to build a data asset as part of your digital transformation.
Digital transformation strategy
Digital transformation is the process of using digital technologies to evolve or create new business processes, culture, and customer experiences. In particular, these enhancements should be targeted at changing business and market requirements. Moreover, enterprises are now using Business Support Systems (BSS) to migrate from paper-based records towards digital workflows. This allows information to be available to an increased number of stakeholders within an enterprise, creating efficiencies and increasing the effectiveness. IoT technology can be used to help create this "data asset" by informing it with data from relevant events on an automated basis.
Building a "Data Asset"
A data asset is data that is expected to generate future revenues or efficiencies. Data valuable to one industry may have little value to another.
Creating a data asset which is contextual to business processes and operations allows enterprises to view their business in different light. Thankfully, IoT data can help identify synergies and consequences through the impact of different business activities, both positive and negative. Allowing more informed prioritisation of work effort and innovating new solutions based on real data and an understanding of customer interactions.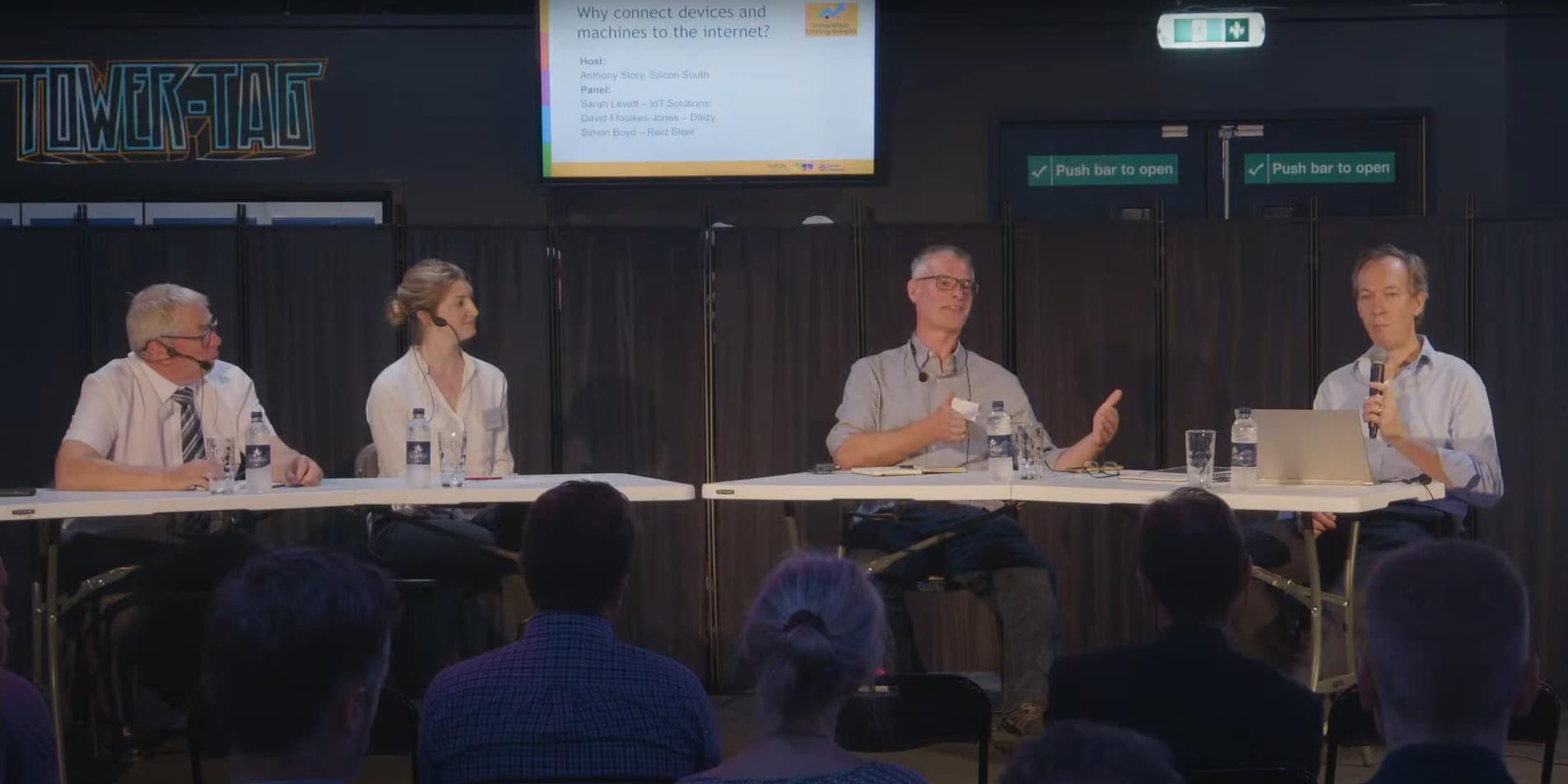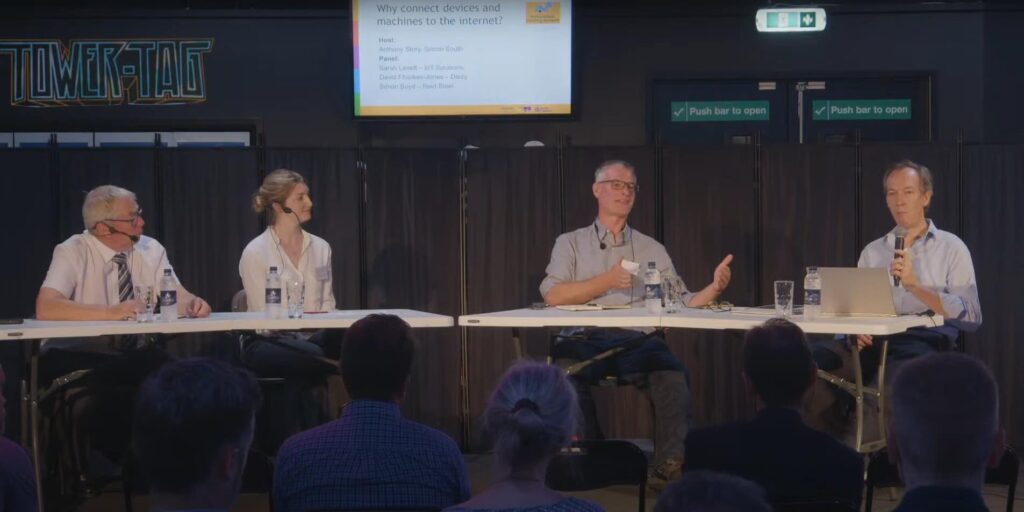 IoT – the value is in the data.
GDPR
It is important to be aware of the laws around data collection, storage and processing of personal data. Moreover, General Data Protection Rules (GDPR) set out a legal framework to protect the rights of the parties involved in data collection. These EU laws are adopted in the UK and used worldwide as the benchmark for data protection. Consequently, it is important to ensure that any enterprise collecting data is doing so within the framework offered by GDPR.
IoT Use Cases
There are many applicable solutions that can deliver IoT benefits, and it would be hard to find an industry or vertical which will not be beneficially impacted using solutions which are enabled by IoT based applications.
Asset tracking
If an enterprise has assets that are mobile, then it's likely that there is a requirement that the location of these assets is known. Accordingly, sensors have been developed to provide Lat and Long, through various means, on a regular cycle, and these sensors can inform systems or processes on the location of the asset.
Assets can range from shipping containers to a single pallet, and from farm animals to agricultural machinery. The purpose for tracking assets ranges from security to customer service, stock management, safeguarding and beyond.
Smart Cities
In order to provide citizens with a healthier, more efficient, safer environment, cities are undergoing a digital revolution. Increasingly, cities are in competition nationally and internationally to attract the best in talent so that enterprises will set up in the locality. Until recently, investment in physical infrastructure was the main driver – good schools, universities, roads, telecommunications, office space, public transport are all key elements to what it takes. However, the next wave of investment centres on digitising metropolitan infrastructure, making it more efficient and dynamic.
Digitisation covers all aspects of city life. For example, data capture includes monitoring pollution levels (air, noise, water, waste), movement of traffic and people, quality of roads and bridges, the weather and conditions at a local level. These data points come together to create smart applications which drive more effective services. Benefit can be attained from a broad range of applications including:
Traffic management
Dynamic pricing for business rates
Smart transport apps informing citizens how to get from A to B avoiding pollution, traffic, shortest, quickest, scenic routes, by public, private or self-powered
Incentives for people to not do things – get a token for not driving and taking the bus or cycling
Efficiency gains in existing tasks like waste management, public health, security and maintenance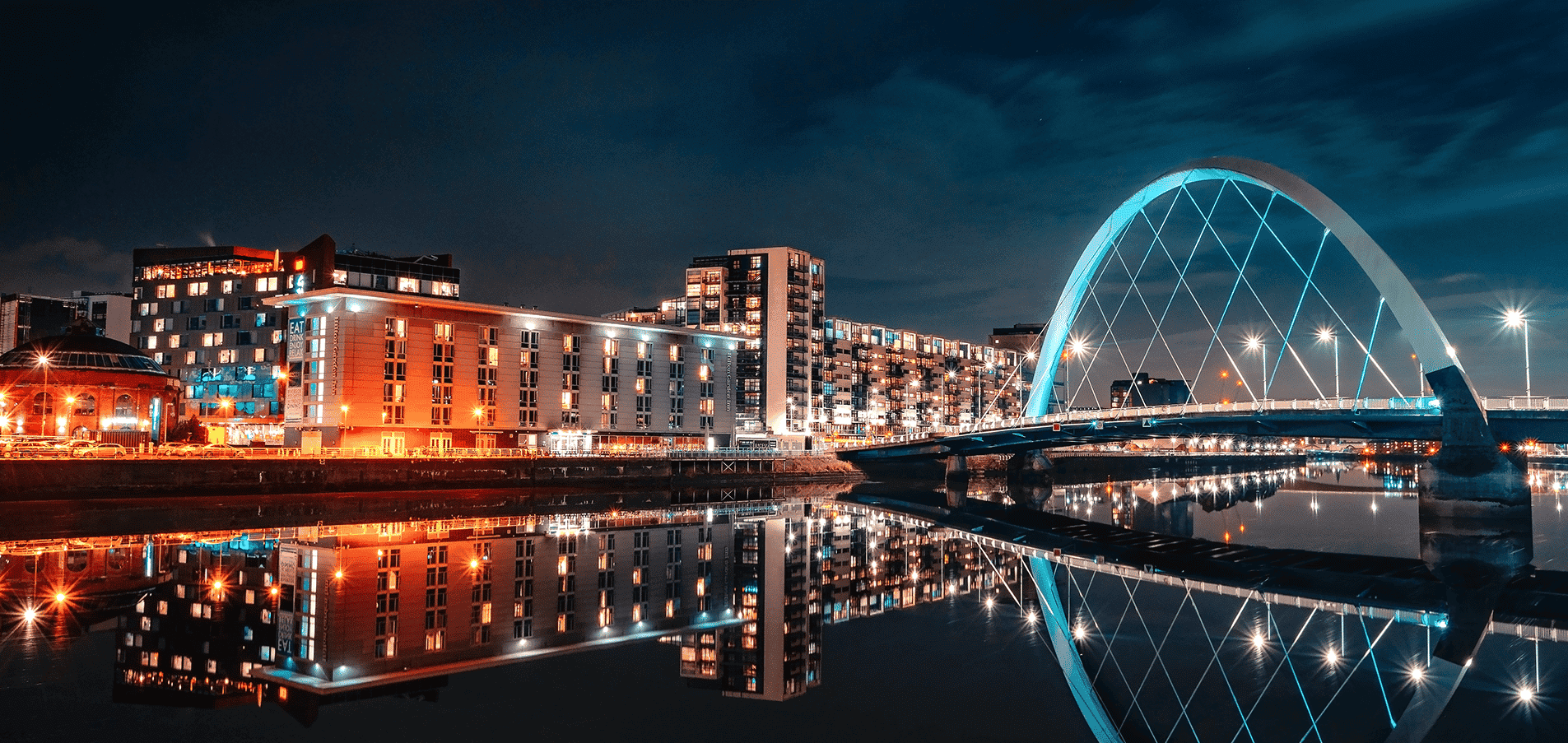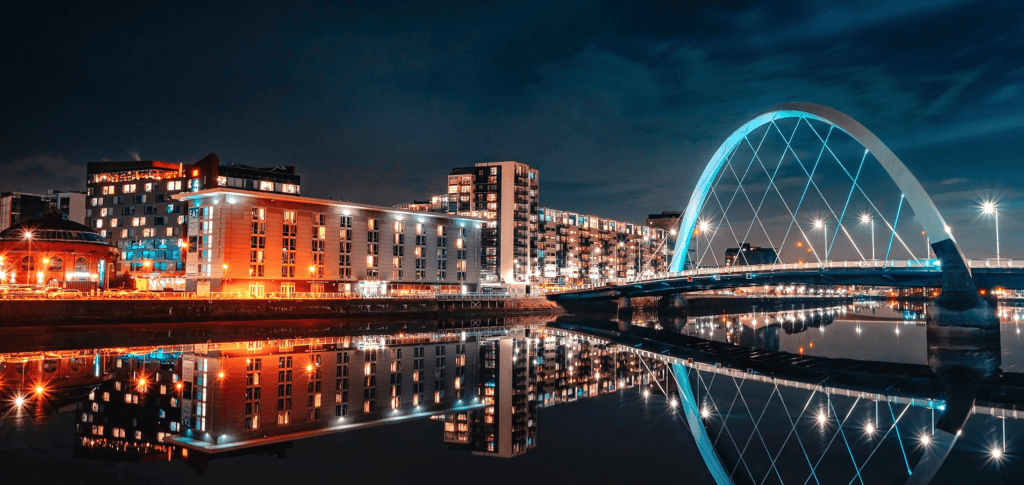 Smart Homes
Property Management and Social Housing enterprises are obliged to follow many regulations to ensure the welfare of their tenants. These range from Legionella Testing, Fire Safety to Homes fit for Habitation. Solutions for proactive maintenance, decarbonisation of energy supply, submetering of utilities, void property monitoring, leak detection, and many more are now available. These solutions can turn the property portfolio into a safer, healthier and ultimately better environment for tenants. In turn, these solutions can reduce costs through prioritising workload and improve tenant satisfaction.
The implementation of a relevant and accessible data asset leads to secondary benefits. For example, in social housing these could lead identifying health concerns, addressing fuel poverty issues, and improving supplier performance.
What are the first steps in deploying an IoT enabled solution?
Be clear about the purpose or goals of automation, for example:

Improving customer relationships

Business model innovation


Understand your operating business processes:

Ensure a collaborative exercise from the beginning using the team across the business to provide ideas and insight

Total costs of operating the processes both indirect and direct

Identify the data flows within the processes – discovering the benefit of automating specific events


Choose the right partner with right technology stack:

That can scale to meet project objectives and recognise that it may start with a single application but expand to many more.

Provides end to end service capability but allows a pick and mix approach to match existing infrastructure

Is open and API driven for integration into existing or updated platforms

Addresses the device deployment in a low-cost way either by using in house teams or enabling external field service teams

Builds a cross referenceable data asset which all projects are contributing to, avoiding a siloed approach

Avoids specific lock-ins to parts of the supply chain so that the "right" solutions can always be pulled together