London, February 2021
Flex Digital Direct Mail enables brands to run interactive direct mail campaigns with letters that incorporate a button-press 'call-to-action' transmitted wirelessly through IoT technology.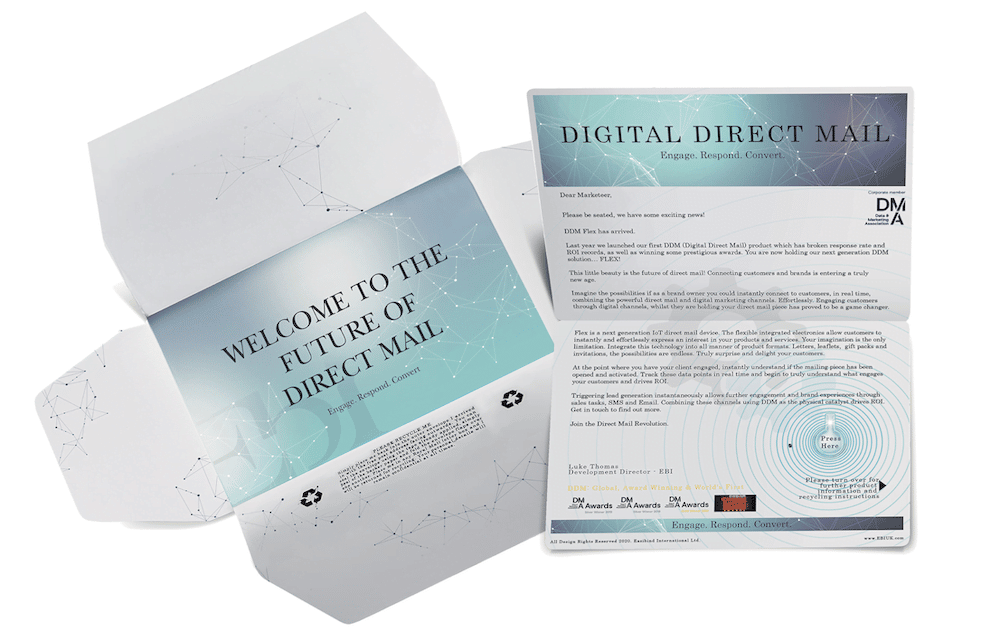 Ebi, a print and fulfilment specialist with expertise in interactive marketing has designed and developed the Digital Direct Mail (DDM) product. Combining custom, personalised print with an electronics package to communicate customer button presses and interactions from direct mail letters using the Sigfox low-power IoT network.
Ebi worked with one of its clients – a premium automotive manufacturer – to use the concept to inspire drivers to book a test drive in its new vehicle. Ebi sent out 5,000 personalised, targeted direct mail packs that incorporated vehicle graphics, specifications and a replica of the 'start/stop' button from the car. By pushing the button, the recipient could book a test drive in an instant.
With an unprecedented 44% response rate compared to the industry standard of 5%. The campaign resulted in over 200 car sales and ultimately a 48x return-on-investment, and went on to win the Data & Marketing Association award for 'Best Use of Mail'.
Luke Thomas, Business Development Director at Ebi commented:
"We've had a huge amount of interest in this innovative direct mail product from major brands around the world. As we looked to scale to thousands or tens of thousands of DDM Flex letters manufactured and dispatched every week we realised we needed a technology platform that could scale with our growth. With the Daizy platform we're able to register and activate devices in bulk on the Sigfox network and pair individual letters with digital customer records at high speed on our print line."
"Our custom Ebi application 'DDM Cloud' allows us to run the business logic of the campaign on the Daizy infrastructure, receiving button presses from letters and orchestrating the customer journey for the response. Whether it's to send an SMS, email or WhatsApp message or post the data into our client's CRM, we're able to quickly customise the digital campaign to meet the needs of the brand."
"With Daizy managing our digital infrastructure, we're able to focus on optimising the customer experience. For the first time ever we're able to bring marketing optimisation technologies previously used in web and digital channels into direct mail – such as real time A/B testing, conversion and goal funnel monitoring. We know exactly which leads originate from the letter arriving on the customer's door mat."
Luke further commented:
"As a direct mail business we're acutely aware of the environmental impact in delivering large direct mail campaigns on behalf of our clients. For every letter we dispatch we provide a prepaid envelope for the customer to return the electronic letter to us. Daizy's lifecycle management capability allows us to quickly re-stock and reuse the device for future campaigns, avoiding a large amount of electronic waste."
David Ffoulkes-Jones, CEO of Daizy commented:
"The Ebi Flex letter proposition is a hugely innovative new business model enabled through the low cost, low power communication technologies of the Internet of Things. For this solution to work effectively it's imperative that every single customer button press, and interaction is captured in real time to create seamless customer experiences. Working with the team at Ebi we've been able to deliver a highly scalable solution with personalised customer interactions on a global basis."
About Ebi
Ebi is the perfect partner to bring your print project to life. We're a full-featured, solution-driven creative force with one of Europe's most diverse in-house design, print and fulfilment facilities – offering unbeatable quality, packed with ingenuity, expertise and variety.
We love creating inspiring designs. Our team work closely with you on every aspect of your project, from the initial inception through to final delivery. We know that your product needs to stand out, and we're ready to help you make an unforgettable impression!
About Daizy
Daizy is the open IoT platform for Enterprise. We help you unlock the smartest version of your organisation, now and in the future. Our platform is horizontal and open, so it grows with you – no device, network or application lock-in.
For organisations that want to run (and grow) smart initiatives or create smart applications using insights from large volumes of sensor data. Daizy takes the pain out of deploying, managing and scaling smart IoT projects.
To find out more please visit https://daizy.io