As investment in IoT continues to gather pace, many decision makers are embarking on what could be the most important investment decision in their IoT budget – the underlying management platform. It's a decision with both short and long term consequences, which, once made, could make or break the future success of your IoT strategy.
Alongside those entering the IoT world for the first time, we also encounter partners with existing IoT implementations spread across multiple platforms who are already feeling the cost, both financially and operationally. They're looking to simplify their solutions, and, without knowledge of a suitable alternative, building their own platform to consolidate their IoT needs can sometimes seem like the obvious approach.
As your IoT solutions expand, the flexibility and scalability of the underlaying IoT management platform will become increasingly important. So, whether you're planning to continue investing in your existing IoT management platform, or getting ready to make a build, buy or partner decision – don't take the leap until you've read on.
Identifying the gaps
As many proof of concepts look to scale beyond a single device, single method of connectivity and single application (e.g. damp and mould or asset tracking), the challenges of delivering a scalable solution are laid bare. Essential functionality such as introducing a new device type, or adding an integration with a service management system can be inhibited by the challenges of a 'vertical' solution design to address a specific need.
So, to help plan your future investment and prepare for scale, we've put together a checklist of essential components that your IoT management platform should support:
Hardware support and payload decoding
As the number of device types and sensing metrics increases, you'll need to be able to easily and quickly support these in the platform, and be able to decode the payloads in a standardised format for easy consumption by business applications.
Network subscription and connectivity
LoRaWAN, NB-IoT, LTE-M, Sigfox…..the options for connectivity continue to expand. We've seen many end-customer projects require a blend of connectivity to ensure coverage across a single implementation., so being able to manage the subscriptions for multiple connectivity types will be essential. If you're planning to scale into the thousands, with new subscriptions coming into your solutions on a daily basis, ensuring simple and effective subscription management will be key to profitability.
Device lifecycle management
In IoT terms, device lifecycle management covers everything from initial unboxing and configuration of the device, through installation, monitoring and eventual retirement/replacement. Whether you are managing all aspects of this yourself, or enabling partners and customer to take control, you'll need an easy way to configure and install devices of different types, and to provide an auditable, user friendly system for managing devices while they are in-life. Features such as fault alerting and diagnosis become critical when faced with thousands of active devices.
Data publishing and integration
As Daizy's CEO continually reminds me, the true value of IoT is not in the devices, but in the data they produce. Ensuring this data can reach not only use-case specific applications, but broader BI and analytical tools will ensure that the value of the data can be realised in full. With this in mind, the ability to publish standardised data sets, and to have integrations with a growing list of business tools will be essential.
Business applications
In terms of leveraging the data produced by IoT solutions, this is where 'the rubber hits the road'. Whether it's a water safety application or an energy monitoring solution, the ability to take IoT data and deliver actionable insights is the ultimate goal. An IoT management platform needs to support this capability either natively or through integrations.
Build, buy or partner?
Although building your own solution gives you ultimate control over features and scope, we've seen partners delayed by years, or even stalled completely, trying to build the basics of an IoT management platform. In fact, it was one of the primary reasons we launched Daizy – there are so many elements of an IoT platform that are common to all implementations, and, by building them into an open, vendor agnostic solution, we've developed a powerful, low cost alternative to building your own platform. This frees up your investment and resources to focus on the business of go-to-market, and building capability in your areas of specialism.
Five reasons you should consider buying instead of building:
Available immediately: An end-to-end IoT management platform in the cloud – get up and running in days.
New devices and brands onboarded in days: We can add your own, or third party devices to our device catalogue free of charge and be publishing data from them in days.*
Product enhancements at no additional cost: We're continually improving our platform so can you maintain your competitive edge without additional investment.
Grows with your business: Daizy is designed to scale out of the box, so you can deliver proof of concepts and beta trials to prove value, then immediately transition to scale.
A seamless component in your stack: Designed with integration in mind, Daizy's API and integrations ensure you can add Daizy into your (and your customer's) IoT stack using standard technologies. Think of us as the plumbing for IoT.
*While we don't sell hardware, we have partners who do, or you can sell devices via your existing channels.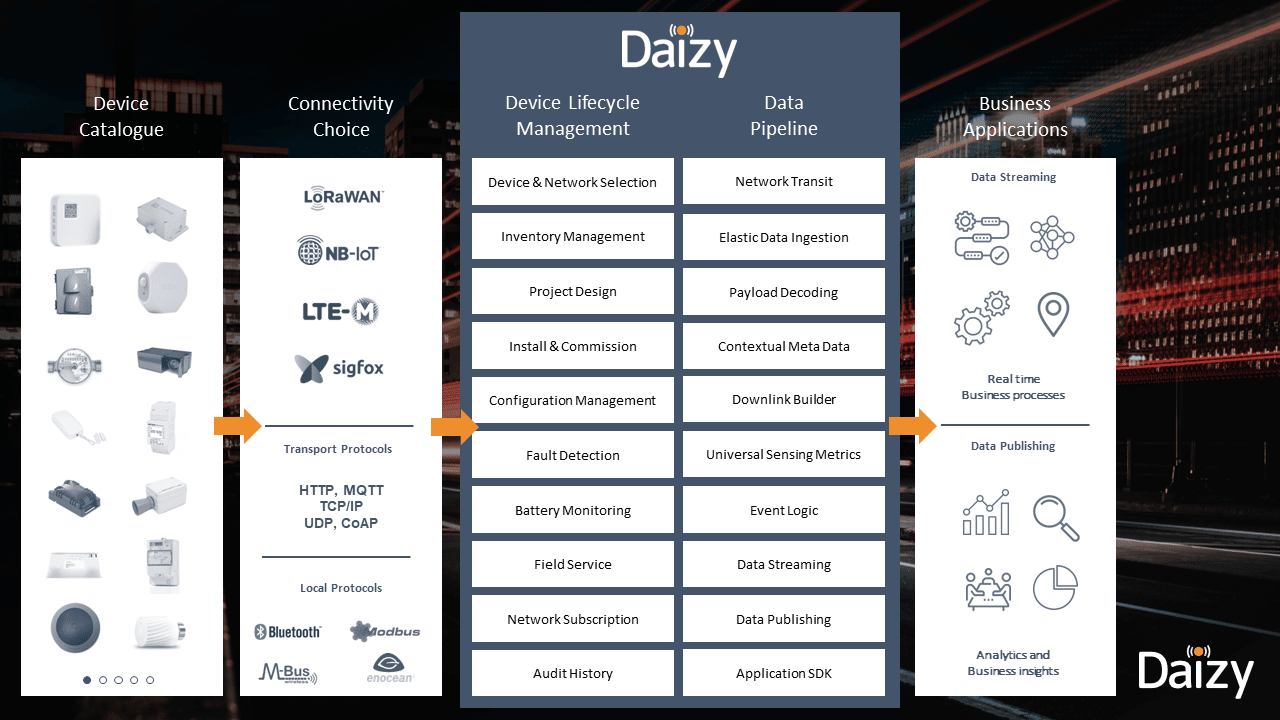 A proven model
A growing number of IoT solutions providers, systems integrator and application developers are choosing Daizy as the underlying IoT management platform for their IoT projects. CTOs, C-Suite and Founders are telling us we're accelerating their time to market and drastically reducing their implementation costs.
Interesting in learning more or not convinced? Perhaps you think that your existing platform does all this already? Put us to the test – get in touch today.
We've merely scraped the surface of what to consider when choosing an IoT management platform strategy, and the emergence of IoT Operations is becoming key to delivering IoT at scale, check out our recent webinar to learn more.