SmartEnds is an Internet of Things (IoT) management solution for Waste Management utilizing edge computing, cloud services and highly optimized sensors. Their product, BrighterBins, is an intelligent Waste Management solution with a unique combination of software and modular hardware. It integrates software and four modular exchangeable sensors, incorporating camera, laser, ultrasonic and GPS (to be released soon) technology.

Intelligent waste management with SmartEnds
Compatible with 90% of bins, BrighterBins IoT modules accurately measure the fill level of waste-wells, dustbins, containers, and other bins, while the Smart Platform unlocks efficiencies and cost savings through features such as optimised route planning.
Implementing smart waste management as part of a smart city or digital transformation program can yield significant benefits, including:
Up to 50% reduction in waste management costs
Reduced activity from heavy traffic
Reduced emissions
Improved experience for visitors and local population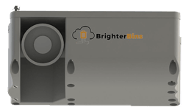 "As the installation base of BrighterBins sensors is scaling up to tens of thousands of sensors around the world, Daizy has helped us in managing and provisioning these sensors correctly." Explained Noman Ahmed, founder and CEO and SmartEnds. "With Daizy, device provisioning can be done within seconds without hassle. It gives solution providers like us leverage to focus on our business and applications."
Efficient management of BrighterBins devices
Daizy customers can now select BrighterBins devices from the Daizy device catalogue and:
Configure devices within a project
Connect devices to a network
Consume the data alongside all other data sets
Manage the in-life performance of connected BrighterBins devices
BrighterBins modules also support a wide range of connectivity options, including Sigfox, NB IoT, LoRa, and GSM, allowing for installations to suit many environments.
Direct integration with the SmartEnds waste management application
A direct integration with the BrighterBins intelligent waste management application means you can start optimising waste management activities as soon as you've added BrighterBins devices onto the Daizy platform, without the need for custom development or a separate device management platform.
Simply install devices using the Daizy Mobile App for Android and Apple iOS, capture metadata about the bin or waste container, such as the bin height and waste type, and the device is automatically provisioned into the SmartEnds platform, immediately collecting data.
"Support for BrighterBins modules and the direct integration with the SmartEnds waste management solution means that local councils, waste management providers and hauliers can easily implement waste management solutions alongside existing IoT capabilities without the added complexity of another IoT management platform." Explained David Ffoulkes-Jones, CEO at Daizy.
"We've been really impressed with the capability of the SmartEnds application and we're seeing a lot of interest from prospects and existing customers."
To discuss your smart waste management requirements or how IoT can help drive your digital transformation strategy, get in touch today.