Manage the Internet of Things
Daizy is a cloud platform to manage your project, device and data lifecycles. Daizy solves the common challenges that anyone attempting an IoT project will face. Experiment quickly at low cost, and deliver scaled roll-outs through a single environment.
Integrate Internet of Things data and events into your existing business processes with minimal effort.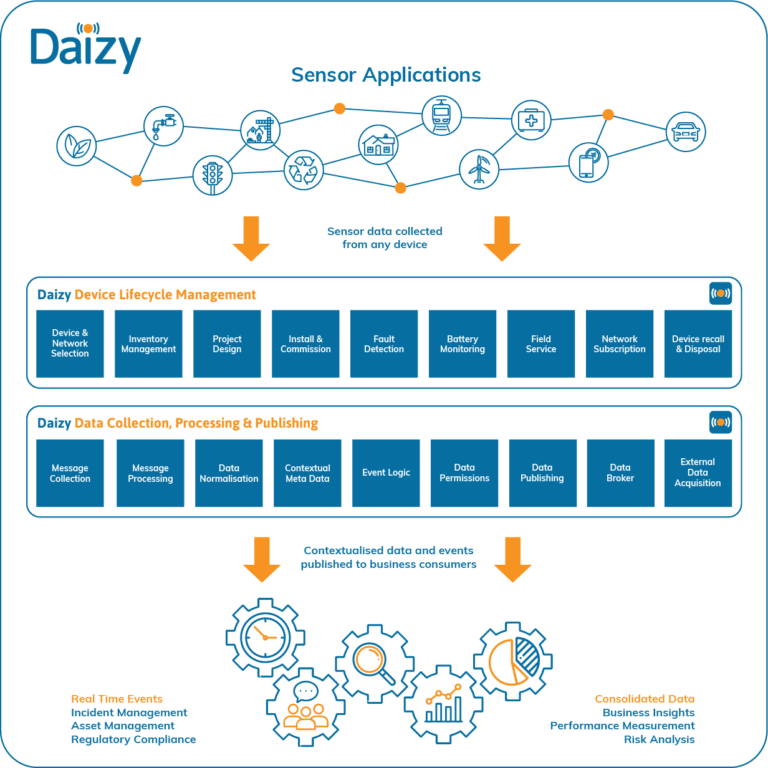 Daizy provides end to end device lifecycle management and data publishing to your business applications.
Daizy is open to any device, on any network. As long as the device vendor can share information around how to manage the device and interpret the data it produces, then Daizy can support it.
Our device catalogue is growing all the time. If you want to roll out a device that isn't yet in the catalogue, the Daizy Aware process provides a simple mechanism to get support added at no additional cost. Common device types are typically onboarded by our device operations team within 5 business days.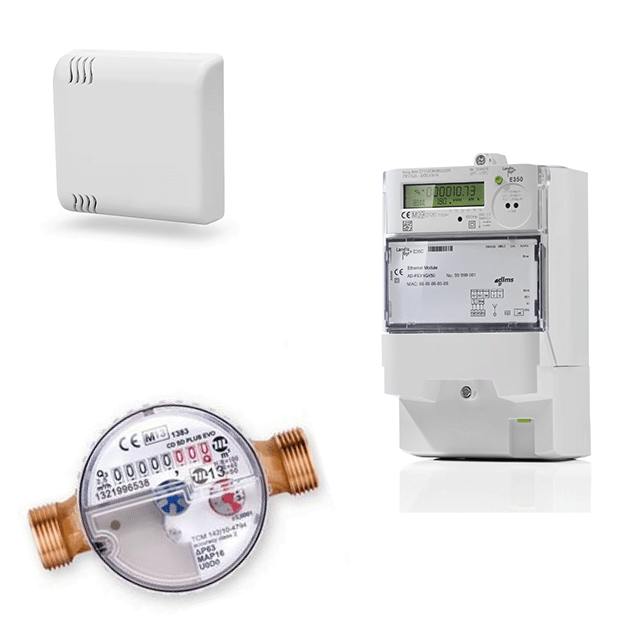 Asset Management
Track all IoT equipment throughout its lifecycle, from initial stock control, through installation, in-life use and end of life disposal with a full audit trail.
Configuration Management
A Configuration Management Database for IoT. Daizy tracks how each device positioned in a project is configured. If a device is swapped in life, the new equipment will receive the same configuration over-the-air.
In-life monitoring
Daizy monitors each device, ensuring that it continues to send data. If a fault occurs, an alert can be sent via email or to third-party service management platforms.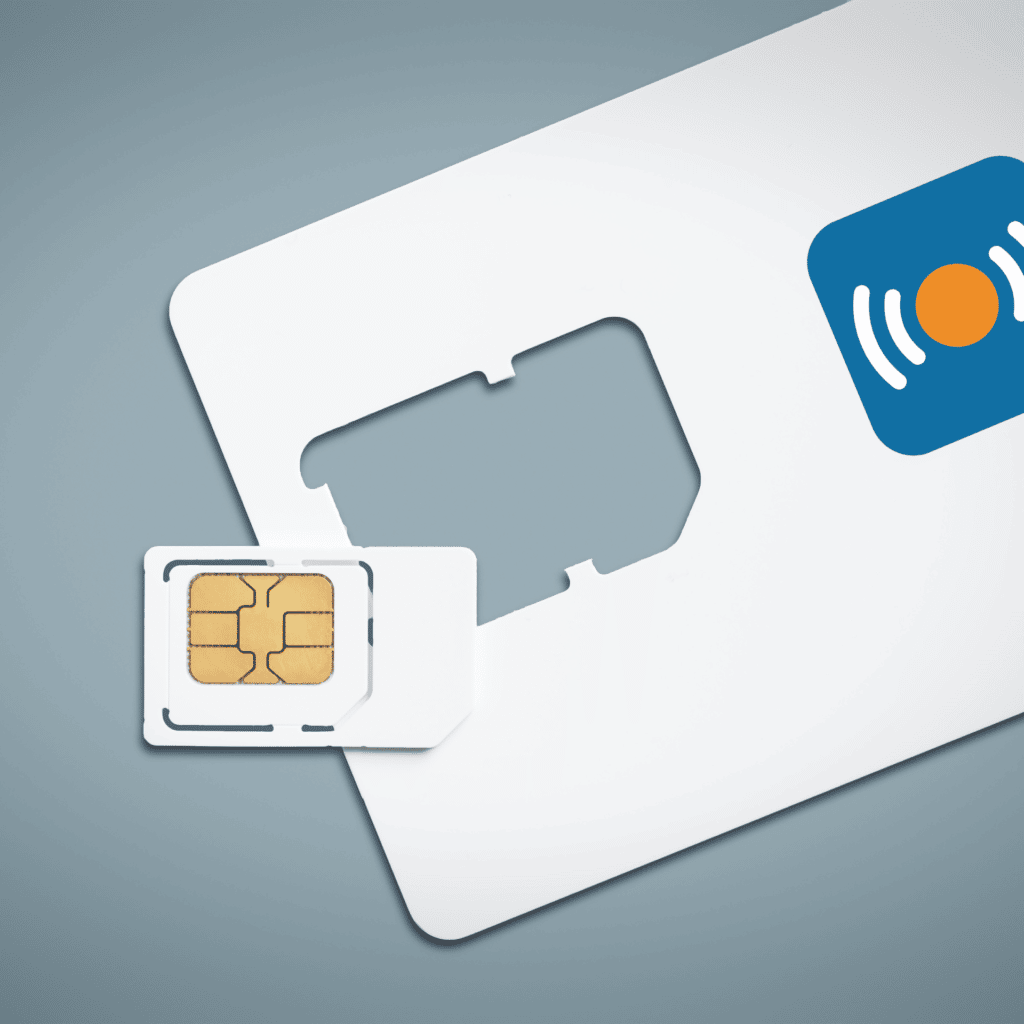 We can bundle network connectivity for all major LP-WAN network types, or you can bring your own network subscriptions.
Bundled subscriptions are managed along with the device, with automated activation, subscription suspension and deactivation in line with the device lifecycle.
Centralised billing and renewals processes ensure your subscriptions are budgeted within your project spend.
Integrated coverage checking is available for networks where electronic coverage data is available.
NB-IoT
We can supply Vodafone NB-IoT connectivity across the UK, Europe and beyond. This is fully integrated, including automated SIM provisioning with our private APN. All data is encrypted from the Vodafone network to the Daizy cloud for security.
LTE-M
We offer fully integrated Telefonica O2 LTE-M connectivity in the UK with encrypted security from the Telefonica to the Daizy cloud.
Sigfox
We offer integrated Sigfox connectivity on a global basis, wherever a Sigfox network is available. All data is encrypted with transport layer security between the Sigfox network and the Daizy cloud.
LoRa WAN
We offer LoRa WAN connectivity on a global basis, with LoRa network servers located at points of presence around the world to ensure low-latency gateway connectivity.
If you run your own LoRa Network Server from The Things Network, Things Industries, Kerlink Wansey or Loriot we can provide setup instructions to forward uplink data securely to the Daizy platform.
We offer cellular backhaul connectivity for LoRa Gateways in the UK and Europe.
4G, WiFi & LAN connectivity
We offer 4G SIMs for devices in Europe. We also support devices connecting natively over the Internet to our HTTPS and MQTT endpoints.
One of the largest challenges with scaling an IoT project is device installation and maintenance in the field.
Daizy provides a tool chain for field service to coordinate this activity.
Role-based security allows you to invite third party users into your Organisation in the Daizy platform to receive field service tasks.
Tracking tools allow you to monitor the state of each job.
Integration with third party workforce management platforms allows you to integrate service tasks for IoT within your existing field service force.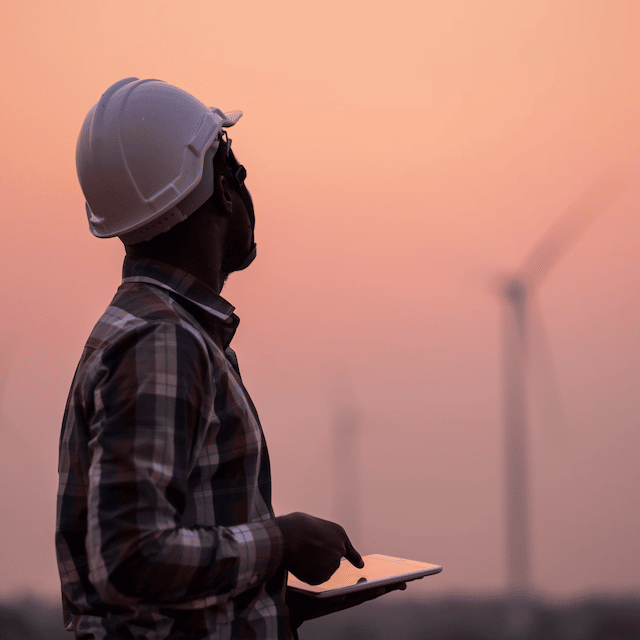 Project Builds
Design the project with a location hierarchy, apply devices and define how they are to be configured. Once you are happy with the design, release the build to field service for deployment.
Task Management
From initial installation through to service and repair, central task management ensures work is assigned to the correct resource in a timely way.
The Daizy Mobile App
The Daizy Mobile App for Android and Apple iOS provides a task inbox, project navigation and device diagnostic tools to manage the IoT estate.
Task wizards automate the process of installation and device replacement, automatically activating network subscriptions in the background and triggering over-the-air configuration of devices.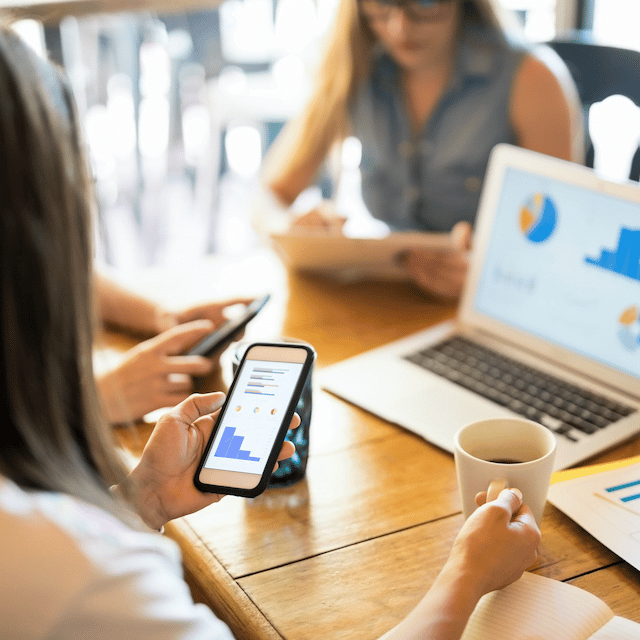 As data arrives from a device it is normalised against a standard ontology, allowing applications to be developed once without being concerned with which device created the data.
All data is tagged with its associated project meta data, ensuring the full context of the data is presented in every message.
All data is stored in a time-series repository within the Daizy platform. Project owners can then specify how the data is published and shared through the concept of 'data sets'.
A data set is represented through a set of conditions which define which device data is included. These conditions are used for data querying, but also to evaluate all new message to provide a scope for streaming integrations.
Data streaming
Data may be streamed in real time as messages are processed. Data streams are scoped on a dataset, and are delivered to one or more integrations. An integration could be a webhook, an MQTT endpoint or into a range of common data analytics platforms and tools.
Data query
A query service is available through a REST API. This allows historic data to be retrieved for a data set, with the results returned in CSV or JSON format.
Rules & Events
A rules engine within the Daizy platform can be used to trigger an alert when a particular data condition is met, for example when a temperature threshold is exceeded. This allow flexible alerting so that only relevant events are sent to an application, rather than the full data stream.
A secure, high availability platform for your data
As a cloud-native platform Daizy provides massive capacity as you need it. To find out more please get in touch.